GradeMojo Digi
Next Gen Digital classrooms
Bring your teachers and students under secured customised domain with user management tools that minimises manual labour inside classrooms.
GradeMojo Engagement
Tools to turn classrooms alive
Technology & Gamification integration improves learning experience and GradeMojo blends classroom with intuitive features and makes learning social.
GradeMojo Vista
Track and monitor activities
Gain insight with GradeMojo to easily assess adoption and fidelity of usage across the deployment which are helpful in taking data driven decisions.
Bring everything together in one place.
Curated Educational Platform with tools to increase collaboration and communication
Family Community engagement.
GradeMojo brings school community together. Students, teachers, parents and administration can connect on GradeMojo, and create an incredible school community together.
Student Centric Classrooms.
We've built GradeMojo with teachers for teachers, with all the necessary tools required to keep students at the centre of the education.
Organisation Empowerment.
GradeMojo strengthens connection in an entire organisation, designed to increase collaboration and securely sync all the resources on exclusive platform.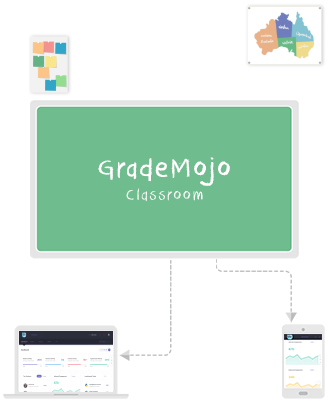 GradeMojo Standard
Platform helps you to automate the conventional workflows and lets you to easily track and analyse.
Harnessing the power of network to enhance teacher capability. Facilitate collaboration and continuous learning by connecting teachers across school to students and parents. Easily create virtual professional learning communities and help students to grow.
With intuitive features, teachers can quickly start class, schedule quizzes, assign homework, manage progress, and lots more. With everything on one platform, GradeMojo reinforces and enhances what teachers are already doing in the classroom. GradeMojo is designed with specific tools to give you complete control over your digital classroom.
GradeMojo Engagement
Benchmarking your classrooms' engagement, helps students to engage, participate, and express themselves.
Tightly integrated with educational theories for student's growth. Teachers can get entire families involved in learning by sharing important notices, announcements, events and lots more. Moreover, teachers can hear student's voice via their profiles and share resources on the platform.
GradeMojo Engagement features classroom with premium tools, leaderboard and turn classroom into a Social learning platform.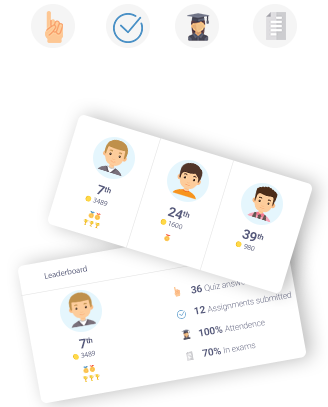 Don't have GradeMojo in your school yet? Help us to reach you